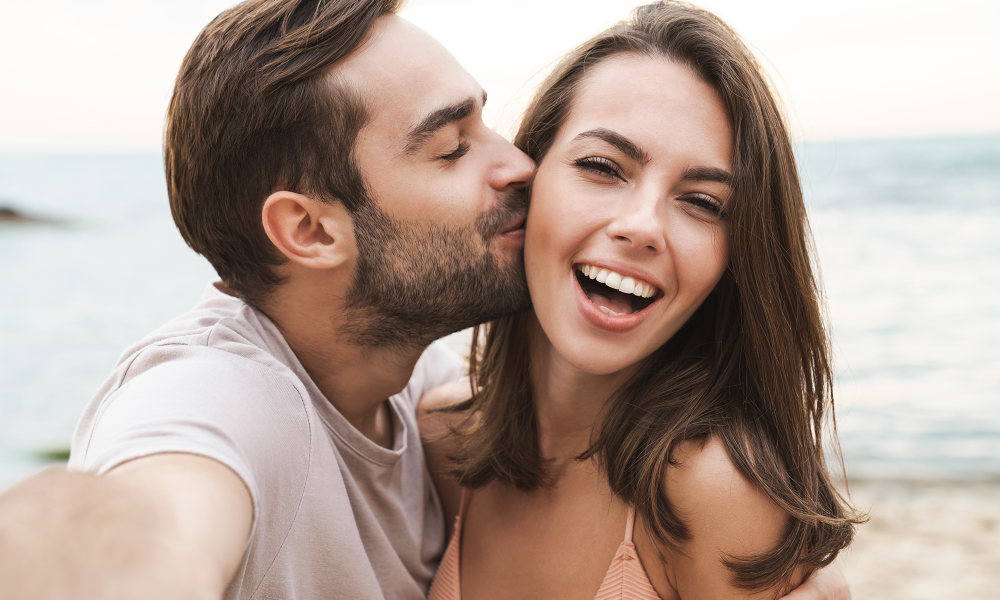 Do you dream of a whiter smile? You can achieve that with professional teeth whitening. Our team is committed to providing the best teeth whitening treatment in San Antonio using the most advanced techniques and technologies. We understand that a bright and healthy smile is essential to your confidence and overall well-being, so we are dedicated to helping you achieve your best smile.
What is Teeth Whitening?
Teeth whitening is a popular cosmetic dental treatment that can dramatically improve the appearance of your smile. Our teeth can become stained and discolored over time due to various factors, including aging, genetics, and lifestyle habits such as smoking or consuming dark-colored foods and beverages. Teeth whitening can effectively remove these stains and restore your teeth to their natural white shade.
Our Teeth Whitening System
At Dr. Robert L. Rodriguez, we utilize Opalescence, one of the most effective teeth-whitening products available on the market. Opalescence is a powerful and safe whitening gel that can dramatically improve the color of your teeth. It has different strengths, so we can customize the treatment to suit your needs.
The Opalescence whitening process begins with a consultation with our experienced dentist, Dr. Rodriguez. During this consultation, we will examine your teeth and discuss your goals for whitening. We will then recommend a treatment plan tailored to your specific needs.
Custom trays are an essential part of the Opalescence whitening system. These trays are custom-fitted to your teeth, ensuring the whitening gel is applied evenly and effectively to each tooth. The trays are made from high-quality materials designed to be comfortable and easy to use. Our team will take impressions of your teeth to create custom trays, ensuring that your whitening treatment is tailored to your preferences.
The Opalescence whitening gel is formulated to be effective and gentle on your teeth. The gel contains a unique blend of ingredients that work together to remove stains and discoloration from your teeth while strengthening and protecting your enamel. With Opalescence and custom trays, you can achieve a brighter, whiter smile in the comfort of your own home.
What are the Benefits of Opalescence Teeth Whitening?
We take great care to ensure that the whitening process is as safe and comfortable as possible. We use high-quality materials and the latest techniques to ensure your teeth are not damaged during whitening. However, there are many more benefits to our teeth whitening options
Safe
Opalescence Take Home Whitening Gels are only available through your dentist. While using the Opalescence Tooth Whitening System, Dr. Rodriguez will supervise your treatment from initial consultation through completion. The special whitening gel will not affect your gums and, in many cases, can help improve your oral health by strengthening tooth enamel, decreasing sensitivity, and offering increased cavity prevention.
Effective
Powerful, prescription-strength Opalescence Take Home Whitening Gels are available in varying strengths depending on your dental needs. Opalescence Take Home Whitening Gels can provide results after just one night, although results may vary and can take up to a week before you experience noticeable changes.
Customized
Opalescence Take Home Whitening Gels are delivered through customized bleaching trays designed to fit your unique smile. Dr. Rodriguez will create your custom trays from an alginate impression of your mouth; this customization makes Opalescence Take Home Whitening Gels so effective.
Further, customize your Opalescence Take Home Whitening Gel experience by choosing from the five different treatment options: Opalescence, Opalescence® Treswhite Supreme™, Opalescence® BOOST, and Opalescence after-care toothpaste, toothbrushes, and OpalPix®. 
Can Anyone Whiten Their Teeth?
Teeth whitening is a safe and effective way to improve the appearance of your smile. However, it is essential to note that not everyone is a candidate for teeth whitening. We recommend that you schedule a consultation with one of our experienced dentists to determine if teeth whitening is right for you. Our team will examine your teeth and discuss your goals for whitening to help you make an informed decision about your treatment options.
Teeth Whitening in San Antonio, TX
At Dr. Robert L. Rodriguez, we are committed to providing you with the best possible care and results. Our experienced team will work closely with you throughout the treatment process to ensure you achieve the best possible results. We also offer a range of other cosmetic dental treatments, such as veneers and bonding, to help you achieve the smile you have always wanted.
If you want to learn more about teeth whitening in San Antonio or schedule a consultation, don't hesitate to contact us today. Our team of experienced dentists is here to answer any questions and help you achieve your best smile yet. We look forward to hearing from you soon!